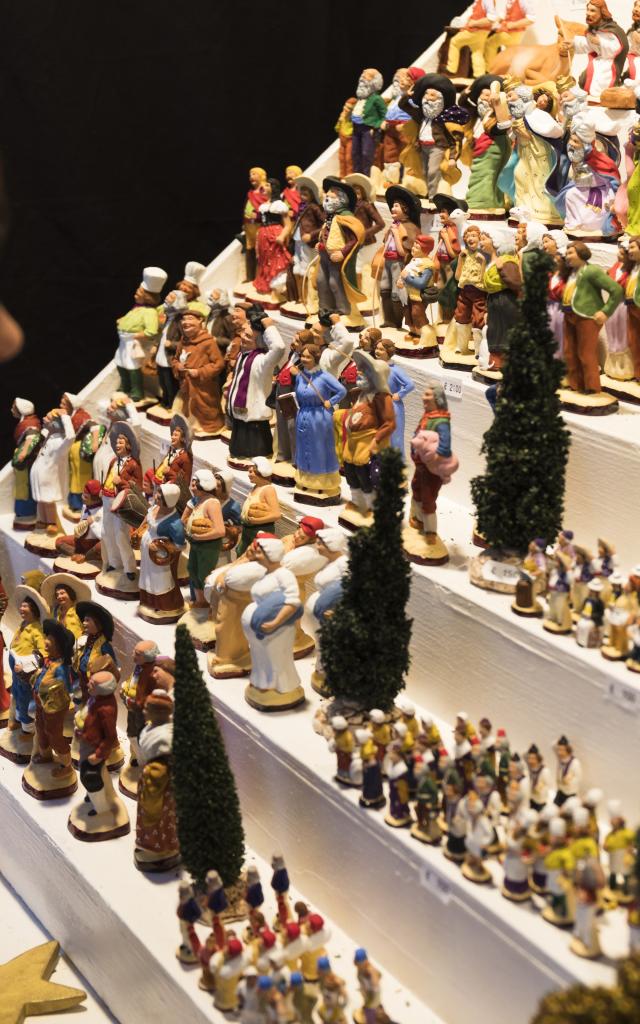 The history of Santons in Provence
Emblematic of Provence, the terracotta santon, born in Marseille at the end of the 18th century, is one of the rare craft objects still made in the respect of tradition. The real santon of Provence, made of uncooked clay, was created by  Jean-Louis Lagnel (1764-1822), noble descendant of his ancestors of bread, plaster, wax or spun glass, the manufacture of this figurine has been carried out until today, respecting a know-how where creation and workshop secrets have always been associated.
Who are the characters represented by the santons?
There is first the Holy Family (Joseph and Mary joined by Jesus-Christ on December 25), then the ox and the donkey who, as a symbol, in a stable, watch over the divine child who has been born. The three wise men are also represented, bearing gifts on the day of Epiphany. The angel Gabriel, the sheperd and his his sheep are also santons that are inevitably found in a christmas nativity scene. If the ten santons that have just mentioned constitute the base of the Provençal nursery, the Provençal people, in the same way as the people of Marseille do not lack ideas for a whole village to be built around the sacred stable.
As in any village, there is the mayor (Lou Conse in Provençal), proudly wearing the tricolor scarf, he is particularly well dressed, and always carrying his top hat and an umbrella.
Then, there is the blind man and his son, the couple of boumians (Bohemians), the famous valet called "Lou Pistachié" the priest, the monk, the tambourinaire and his farandole. This list is  obviously not exhaustive , since professions from  civilian  life professions are also represented : the baker, the butcher, the pizzaiolo, the footballer and many others…
One indispensable santon deserves special attention: 'le ravi' meaning 'delighted'. "Lou ravi"(his provencal name)  represents the 'fada' meaning the 'the fool" of the village  or rather the surprised one, his astonishment is marked by his arms raised in the air. He rejoices at the birth of the child, but as he is a rather poor man, he has nothing to offer but his joy and his smile. This character is at the origin of the expression " ravi de la crèche" (delighted in the provencal Christmas  nativity  scene), which refers to a candid person, little marveling.