History
Bouillabaisse was originally the fare of the local fishermen who on returning from a fishing expedition sorted their catch : some to be sold on the local market , some to be kept to be eaten at home.
It is therefore a simple family dish which has been improved and modified over the years to the point that today some bouillabaisse include shell-fish.
Presentation
Bouillabaisse is served in two different dishes : the fish in one and the soup or broth in the other. The fish and the soup may be served together or separately, according to individual tastes. One ruel however remains, the fish must be prepared for eating when the guests are at table. Rouille (mayonnaise with piment) or aioli (garlic mayonnaise) are also served with croûtons rubbed with garlic.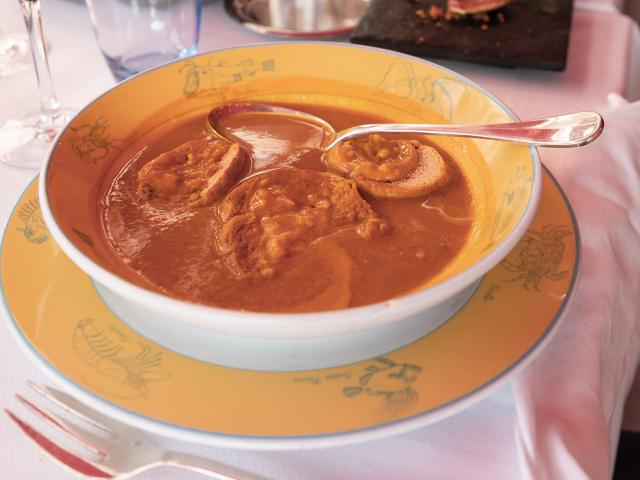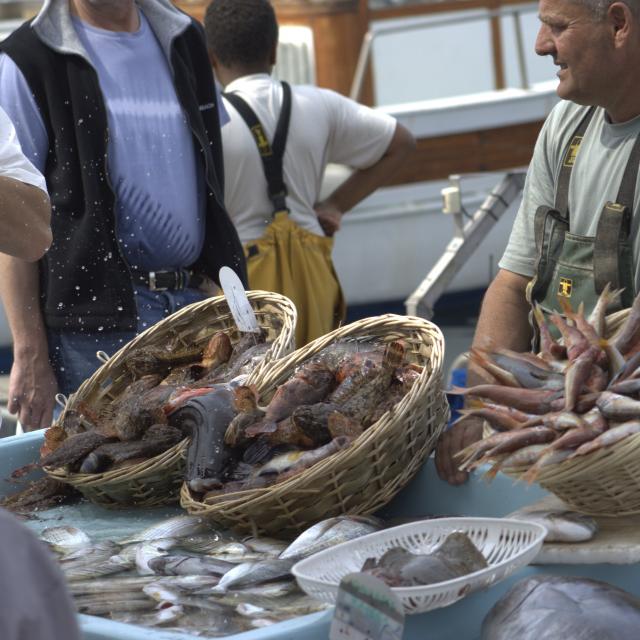 The fishes
Marseilles bouillabaisse reqires a variety of fish from the shores of the Mediterranean. The fish must be spanking fresh from the sea. When making bouillabaisse at least four of the following fish should be included :
Rascasse
White rascasse – fielas (congre)
Araignée (vive) – chapon (scorpène)
Galinette (rouget grondin) * facultatif
Saint-Pierre cigale de mer
Langouste
You can make a choice from this list according to fish arrival and to the number of your guests but there is one essential point left for the bouillabaisse's quality and that is the extreme fresness of the fish, prime condition for the best result.Other ingredients; Salt, pepper, saffron, olive oil, garlic, onions, fennel parsley, potatoes, tomatoes. For the base; small rock-fish. Bouillabaisse is served with a traditiona sauce : rouille (mayonnaise with piment).
Recipe of  la bouillabaisse   :
4 kg de poissons (selon arrivage) : -1,5 kg de rascasse
1 kg de Saint-Pierre
6 tranches de fielas
3 galinettes
4 vives
6 tranches de baudroie
1 kg de poissons de soupe
Brown the onions, garlic and tomates in olive oil. Add the rock-fish which has previously been cleaned and cut into slices. Mix together until it has the consistency of a paste (15 min). Cover with boiling water and boil for a least 1 hour. Add the fennel, parsley, salt and pepper. Pass the misture through a mill and sieve.
Finishing touches : Add the sliced raw potatoes (2 slices per person) then the remaining fish (with the exception of the sea-hens and the shell-fish) and boil for 20 minutes. Five minutes before serving, add the sea-hens and the shell-fish.
When cooking is over, remove the fish and potatoes. Season with salt, pepper and saffron and place on serving dishes.
The "rouille" : The most usual way of making  rouille   is with an ali base , adding asffron and red pepper. It can also be made using a base of potatoes and red pepper.