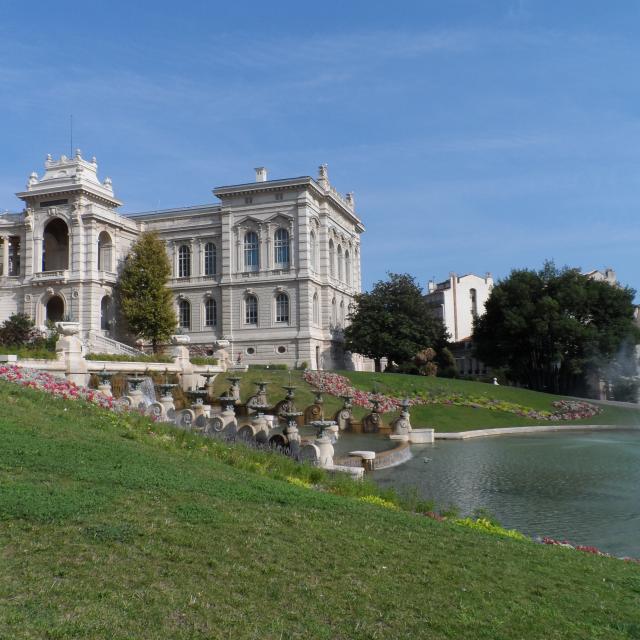 There was a plan to dig a canal to supply water from the Durance to Marseille in the 16th century. The council became obsessed by the water issue in the 19th century which worsened with a cholera epidemic in 1835. From 1838 canal excavation plans were drafted and the Ponts et Chaussées-educated engineer Franz Mayor de Montricher's plan was chosen. The 85km canal excavation meant opening up the underground, building 18 aqueduct bridges, 10 years of hard work and the tenacity of certain politicians. From 1839 when the work began, they created a huge water tower to the glory of precious water. After several projects, the architect of Notre-Dame de la Garde Henry Espérandieu was chosen to build the most striking buildings built in Marseille during the Second Empire.
The monument opened in 1869 and celebrates the arrival of water from the Durance canal in Marseille as depicted inside. The famous animal sculptor Antoine Louis Barye made the lions and tigers at the entrance. The monumental fountain in the middle of the colonnade is by Jules Cavelier.
It brings the Museum of Fine Arts, Natural History Museum and botanical garden (formerly a zoo) together on a single site.
In the renovated and reopened (2013) left wing of the Palais, the Museum of Fine Arts displays paintings, sculptures and drawings from the 16th and 19th century. It is one of the oldest museums in Marseille as it was founded in 1801.
The right wing of the palace has been home to the Natural History Museum since 1869. The museum houses collections of 18th century cabinets of curiosities donated by the city and state. Its collections, along with nine other major French museums, placed it in the first class in 1967.  
The observatory,is the oldest science establishment in Marseille. It was based on the Accoules before the Plateau Longchamp was built. It is now an instrument development laboratory and a data processing centre for the largest telescopes in the world and major space missions.
In addition to its research, the Observatoire is open to the general public and schools with the association Andromède  which regularly hosts activities to promote astronomy. The Observatoire also has an exhibition hall displaying antique instruments which the Patrimoine group presents to the general public and schools.