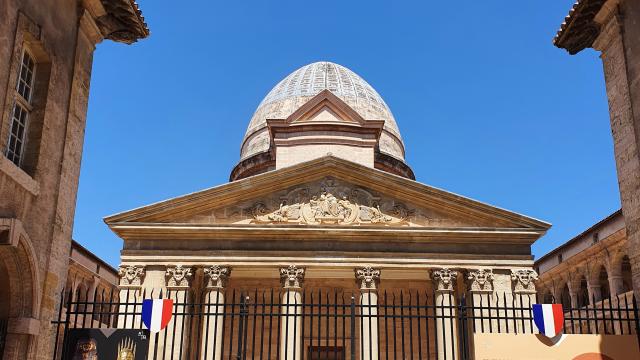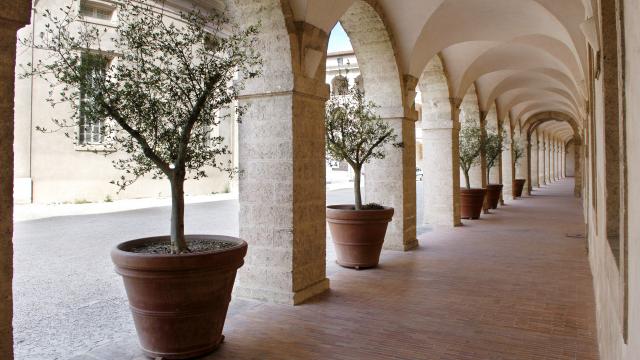 Origins
The 'Vieille Charité' in a few dates
In 1640 the City Council decided following the royal policy of "great confinement of the poor", to gather the poor natives of Marseille in a clean place.
It was not until 1654 that the directors considered constructing a set of buildings more appropriate to the needs, as there were already more than 300 poor people at the Charity at that time.
In 1670, a charitable association within the Council of Aldermen( Conseil des Echevins) gave Pierre Puget, the king's architect and a child of the neighbourhood,  the construction of a General Hospital to welcome beggars and the poor. 
It was only in 1671 that the first stone of what was to be one of Pierre Puget's most beautiful architectural achievements was laid.
The construction of " la Vieille Charité" of Marseille was completed in 1749. They serve vast collective spaces for work and living, separating  women and men.
In the centre of the courtyard, the chapel built between 1679 and 1707 is a remarkable architectural work with an ovoid dome, a perfect example of pure Italian Baroque. The present facade, which was left unfinished, dates from 1863 and takes up the theme of Charity.
After the revolution and until the end of the 19th century, the "Charity" became a hospice for the elderly and children. In 1905, the building was occupied by the army and was subsequently used as a shelter for the most destitute.
Left abandoned after the Second World War, and destined for demolition, the Old Charity is occupied only by poor inhabitants living in miserable conditions.
The Old Charity was finally classified as a Historical Monument in 1951 under the impetus of the architect of the 'Cité Radieuse', Le Corbusier.
In 1961, restoration work began and lasted almost 25 years.
In 1962, all residents were relocated and the building was closed.
Since 1986, it has been a multidisciplinary centre with a scientific and cultural vocation for the City of Marseille.
A building of great beauty
The 'Vieille Charité' is composed of four wings of buildings closed on the outside and opened on a rectangular courtyard by galleries which give rhythm to life inside the building.
The body of these buildings is made up of three floors of superimposed galleries with arcades in the centre opening onto an inner courtyard where there is a chapel.
In the centre of this quadrangle, towards the entrance door, is a chapel with an elliptical dome in Baroque style. The porch with Corinthian columns, in Second Empire architecture, takes up the theme of Charity welcoming needy children. It was built between 1861 and 1863.