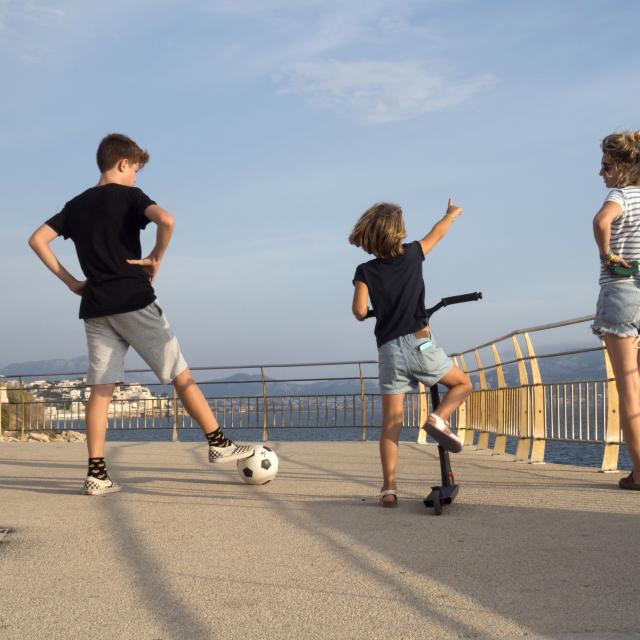 Marseille's way of speaking is passed on from generation to generation
From the schoolyard to the "pétanque" courts, from the 'Estaque' to the 'Pointe Rouge', this language,  which is so dear to us, has  endured. If it still keepsa few secrets to the Marseille inhabitants, it remains a mystery and continues to intrigue travelers coming to visit Marseille.
Present in some particularly funny scenes made famous by Marcel Pagnol during a card game or by the crazy songs of Massilia Sound System, the Marseille language is at the centre of many works. Our language is based above all on metaphor and figurative meaning. In "Jean de Florette" by Marcel Pagnol, the grandfather gives affectionately the nickname of "Galinette" to Ugolin. If in the literal translation of the term, a 'galinette' simply is a gurnard, a fish that is put in the "bouillabaisse"(tradional dish made with fishes), the suffix "ette" gives a friendly aspect to the word and shows all the affection felt by  the old man  towards his nephew.
Sometimes some words can lead to some confusion because if in Marseille people buy 'a restaurant', they buy a big half a kilo bread loaf. 'Pilotis', in addition to being poles that carry houses, are also very high and uncomfortable stiletto heels for those who will wear them. The list of examples could go on for many pages.
An integral part of the history and culture of the city.
Marseille is not resumed by its visual environment: its beaches, its islands, its Calanques. The city has transmitted to its population an identity, a certain pride of being a citizen of the oldest city in France, a language of which  many words are used  spontaneously every day by subtly slipping them between two terms of the language of Molière.
To understand more about the importance of the Marseille language, it is possible to buy quality books written by local writers. If on your first visit to Marseille, you always wonder who "Dégun" is, is it a friend? A family member? A neighbour? On the second visit, one may  understand why the "Marseillais" talks so much about his colleagues, a term which in the French language has a somewhat different meaning.