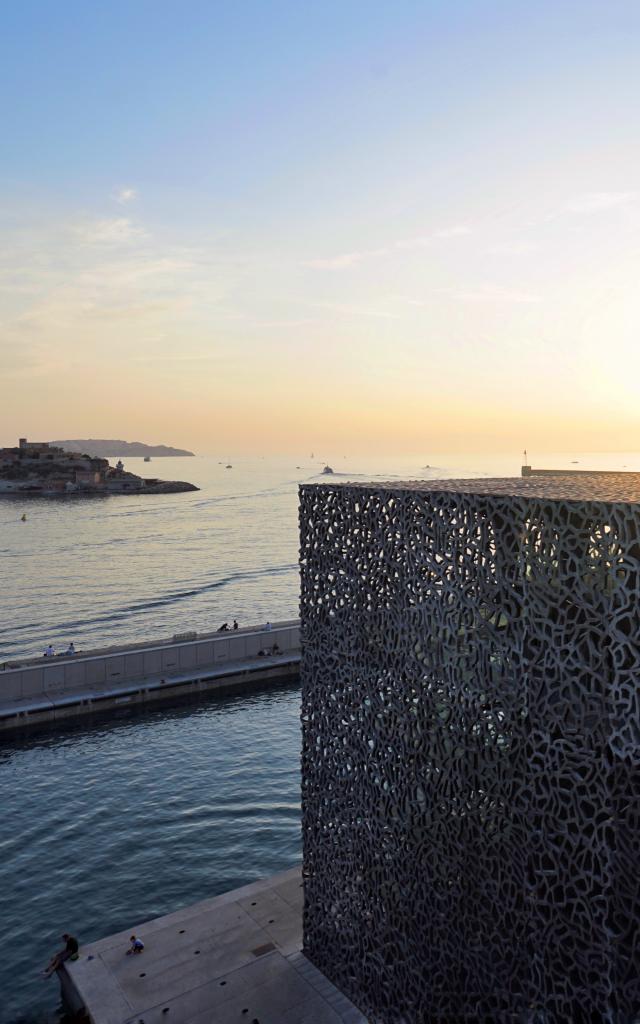 One museum, three places to visit !
J4 Esplanade
The new building is built on the former harbour breakwater of J4 esplanade built by Rudy Ricciotti associated with Roland Carta. It contains the heart of the Mucem. There are two places of exhibitions: the first one, the  Mediterranean gallery dedicated to the  discovery of different major steps of Mediterranean civilisations. The second set will focus on temporary  exhibitions. J4 also includes a special corner for  children. What about organizing a  family discovery in Marseille? The little ones will be impressed!
It also houses :
An auditorium to host shows, concerts and cinema cycles
A  book shop
A panoramic restaurant directed  by the three stars chef Gerald Passédat.
Saint Jean fort
The 'Saint Jean Fort' restored (15 000 sqm) is a historical monument that originally dates from the 12th century. Linked to the  J4 by a footbridge, thrown above the  sea, it allows the visitors to enjoy spectacular panoramas, invisible until then.
This site is worth visiting during your stay. Get ready for a stopover full of rewarding surprises.
The guests are invited to walk around the new Mediterranean garden and, discover the  'wealth' of its Arts collection and popular traditions, Mediterranean contemporary creation. The site allows you to enjoy outdoor shows, a coffee shop, a library/book shop. A second footbridge is linked to the 'Panier' suburb.
The conservation and resource centre(CCR)
A third site in the 'Belle de Mai' suburb houses the conservation and resources centre (CCR – 14 000 sqm), designed  by the architect Corinne Vezzoni, in association with André Jollivet. The CCR is a place for the conservation of the collection and also  provides the opportunity to take  a behind the scene tour of the museum, which includes several areas open to the public: an accessible storeroom, a  documentary consultation area and  a temporary exhibition area.