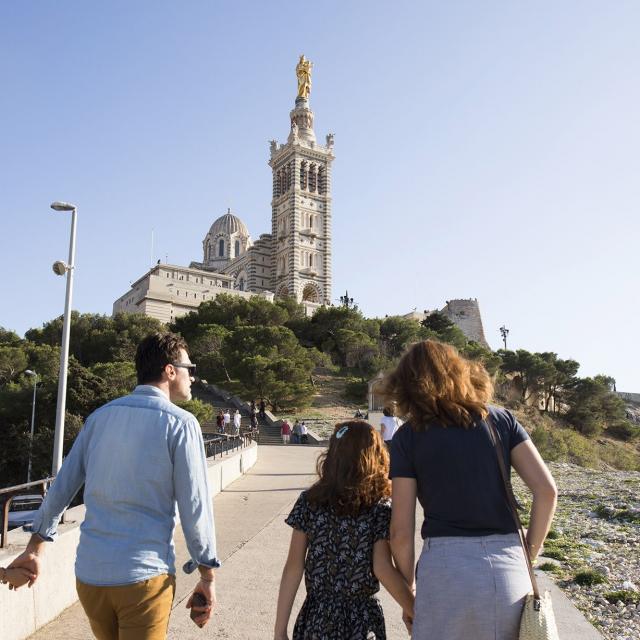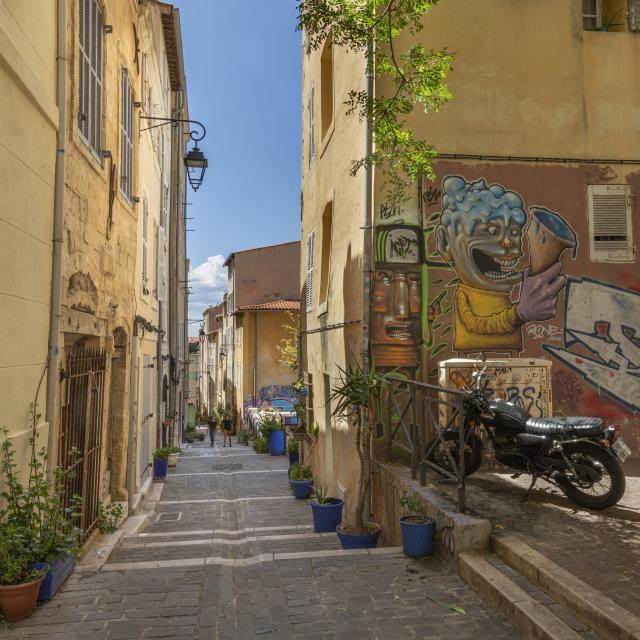 1st day: The must-see sights
Morning: Marseille from a height
Take bus 60, the Petit Tourist Train, City Tour or Grand Tour from the Old Port to Notre-Dame de la Garde where staggering views of the city await. Visit the basilica and the Musée de Notre-Dame de la Garde.
Return to the Old Port and visit the fish market on Quai de la Fraternité and L'Ombrière by Norman Foster. Stroll along the port's docks. The famous free Ferry Boat takes you across Old Port to and from the Town Hall and Place aux Huiles.
Settle down to lunch in one of the many restaurants in the Old Port: try a bouillabaisse or a simple dish filled with the flavours of Provence. Satisfy your appetite on Quai du Port, Quai d'Honneur, Cours d'Estienne d'Orves, Rue Sainte and nearby.
Afternoon: Around the Old Port :
Behind the Town Hall lies the city's old town, "Le Panier". Experience the hidden gem that is Marseille's old town with or without a guide (guided tours available from the Tourist Office and Convention Bureau), on the Petit Tourist Train or on foot.
Lose yourself in the little lanes and explore the Vieille Charité Museum, the Roman Docks Museum or the children's museum Préau des Accoules.
Wander to the end of the Old Port or take the Fort Saint-Jean bridge to the J4 Esplanade: Mucem, Villa Méditerranée and Musée Regards de Provence.
Return to the Old Port or take the 82 bus, 82S to Pharo-Catalans, 60 to Notre-Dame de la Garde, get off at the Old Port metro station and go to La Canebière. As you walk up the street, on your left you can reach the Palais de la Bourse and visit the Marseille History Museum and Ancient Port.
Go back up La Canebière to Cours Julien and you'll reach Palais Longchamp. Alternatively, take metro line 1 (to La Rose, stop at Cinq avenues Longchamp) or tram line 2 on Cours Belsunce (to Blancarde Foch, get off at Longchamp). Here you can admire collections and exhibitions at the Fine Arts Museum and Natural History Museum and stroll through the Longchamp grounds.
Fancy a real Marseille shopping trip? Unearth Marseille souvenirs (soap, olive oil, pastis, lavender, navette biscuits, santons, OM merchandise etc.) along the docks. You'll also get your shopping fix on Rue Saint-Ferréol, Rue Paradis and Rue de la République with their high street brands, luxury names and up-and-coming designers.