Day 1: Marseille, visit a cosmopolitan metropolis
Urban wanderings, from the Cours Julien to the Old Port
On your first day in Provence, head to Marseille to begin with a discovery of the frescoes and street art of the Cours Julien within the quartier Notre-Dame-du-Mont. This is an original place where street musicians like to share their compositions with passers-by.
After strolling through the streets and staircases of the Cours, you continue down the Canebière – Marseille's most famous pedestrian avenue – to the Vieux-Port. Every morning, it's possible to observe the stalls of freshly caught fish merchants. Right next to the market, you can take a moment to admire this Norman Foster-designed shade roof, which plays on mirror effects.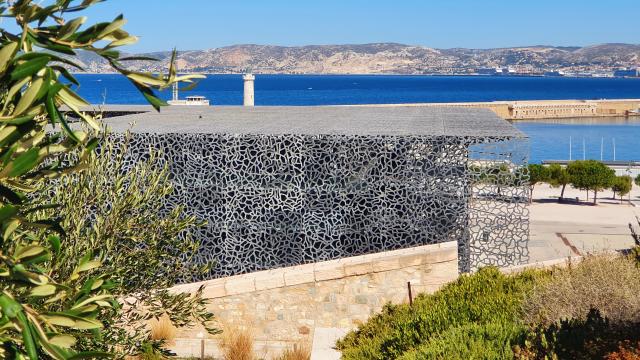 The Mucem, meeting the civilizations of the Mediterranean
After the lunch break, you head for the Mucem on the J4 esplanade, one of the must-see activities. France's first major museum dedicated to the Mediterranean, this museum with its original building designed by architect Rudy Ricciotti offers permanent and temporary exhibitions that attract large numbers of visitors every year. Inaugurated in 2013 by President François Hollande, it is a place of exchange where history, archaeology, anthropology, art history and contemporary art intersect. You can also recently discover the replica of the Grotte Cosquer: located in the Villa Méditerranée, it's a unique experience aboard small vehicles, but also a cultural venue to learn more about our ancestors and their way of life.
In the picturesque streets of the Panier district
At the end of the day, head for Marseille's historic district, namely the Panier quarter, in the 2nd district. Made up of narrow, colorful and vegetated alleys, this typical spot from Marseille is ideal for strolling and shopping, where a good number of artisans will gladly welcome you. For your dinner, various convivial restaurants will open their doors for you to taste Provencal specialties, often based on seafood.