The Old Major
Several buildings have stood on these foundations since the 5th century but the current Roman Provencal style church built in pink stone from the Couronne quarries dates back to the mid-12th century. The bell tower wasn't built until the 14th century. It was a cathedral until 1852 but was still used as a parish church until the 1950s. The building of the new cathedral removed two of the Vieille Major's bays but allowed the early-Christian baptistery to be brought up to date with a central layout, square exterior, octagonal interior, impressive dimensions (over 25m on the side) and highly sophisticated interior. It was buried again and the Nouvelle Major was built in its place. The building was listed as a Monument Historique in 1840. The Vieille Major isn't open to visitors.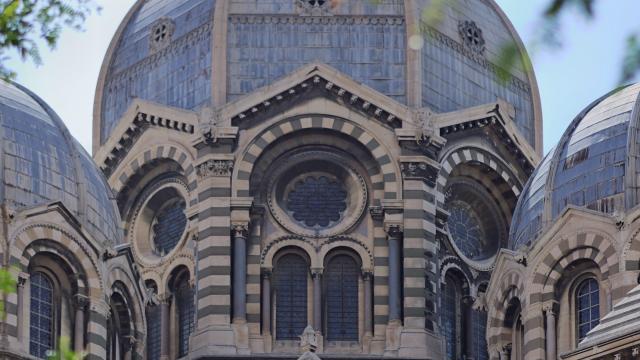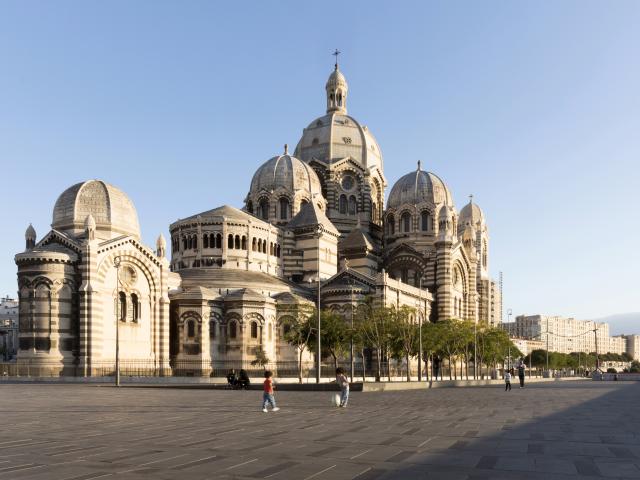 The Nouvelle Major 
Marseille experienced a significant social, demographic and economic boom which led to a period of major construction in the 19th century. Louis-Napoleon Bonaparte laid the first stone of the new cathedral in 1852 which was consecrated in 1896 with plans by the architect Léon Vaudoyer. Upon his death in 1872, Henry Espérandieu, the architect behind Notre-Dame de la Garde and Palais Longchamp, took over the work until he died in 1874. Henri Revoil finally completed the new cathedral. The Roman Byzantine-style church is in a Latin cross-shape with ambulatory. It is 146m in length, the main dome is almost 70m high and 18m in diameter. The Nouvelle Major was listed as a Monument Historique in 1906.
Monseigneur de Mazenod (1782-1861) was canonised by John-Paul II in 1995; his body rests in the large chapel in the cathedral's ambulatory.
The warehouses in the vaults at the foot of the Major ceased trade at the end of the 70s and closed. This site underwent major renovation to create a new urban space in 2014: meeting and social centre. Les Voûtes Marseille is now home to shops, restaurants, bars and more.