Districts and cultural areas
Cours Julien, the ideal location for graffiti artists 
Since the 1980's, colours have taken over the walls of this district, but not only on the walls… Art can be found on every street corner: doors, stairs, storefronts, any medium is conducive to street art. In recent years it has grown thanks to institutional initiatives that have helped legitimize this artistic approach. The "Cours Ju", as it is called by the locals, has seen many mural artworks and many artists. To mention some of the most famous, we can see on the walls the names of C215, Monsieur Chat, or Mahn Kloix. A real pleasure for the eyes of those who love this ephemeral art or are simply curious to discover it.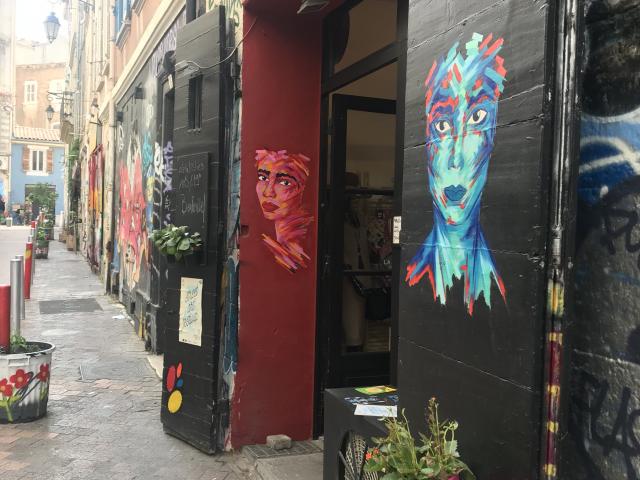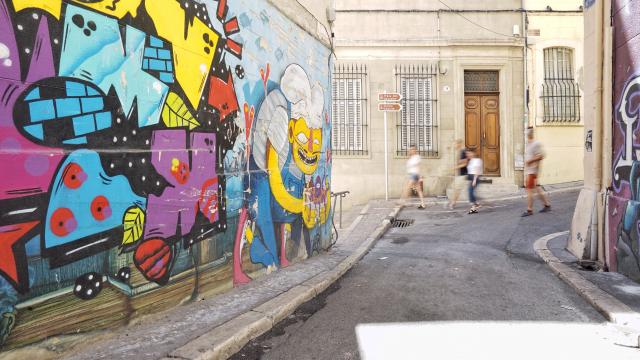 The Panier district, an open-air museum
As the oldest district of Marseille, the Panier attracts visitors curious to venture into its narrow and colorful streets. Street art has made its home here: wherever you look, murals, graffitis or ceramics decorate the walls. We can easily recognize some famous artists such as Nhobi, a Brazilian artist representing his characters with grimacing faces and bulging eyes. One of his most representative murals of Marseille is the one of the fisherman that he realized with his fellow artist "Seek 313" in 2019. Although gigantic, these paintings remain ephemeral since they are constantly covered and renewed. This is why we can find many works exhibited in the "UndartGround" gallery, to keep track of their visit.
La Friche de la Belle de Mai, an artistic rehabilitation 
This former tobacco factory has been completely renovated as a cultural venue hosting exhibitions, festivals, concerts and workshops… It is also a living space in its own right offering young people and families the opportunity to enjoy a skate park, a basketball court or shared gardens, while in the heart of many colourful murals, stencils, or collages … Artists regularly come to perform and reinvent this 100,000m² space, where the atmosphere lifts you up!
Street art is not limited to these few districts and cultural spaces though, just walk around the city and raise your eyes a little to spot these marvels …