J4 Esplanade and the panoramic walk of the Fort Saint-Jean

Located in the heart of the city center, the J4 esplanade benefits from an ideal location to watch the sunset. With your feet in the sea or sitting on a bench, you can admire the 'Palais du Pharo' on the opposite bank and the Mucem behind you. At nightfall, you can see the most beautiful shades of blue, revealing the architectural prowess of the building. You can also walk along the panoramic footpath of Fort Saint-Jean that offers an amazing view of the sea.
Notre-Dame de la Garde 
From the top of its hill, 'la Bonne Mère' – the Good Mother – as the people of Marseille call her, is the highest point of the city. It offers a 360-degree panoramic view over Marseille and of course, over the sea. The hills display magnificent orange colors as the sun goes down on the horizon. In the distance, you can see the mythical Marseille Orange Velodrome Stadium and many of the city's monuments falling asleep. It is a fabulous playground for photography lovers!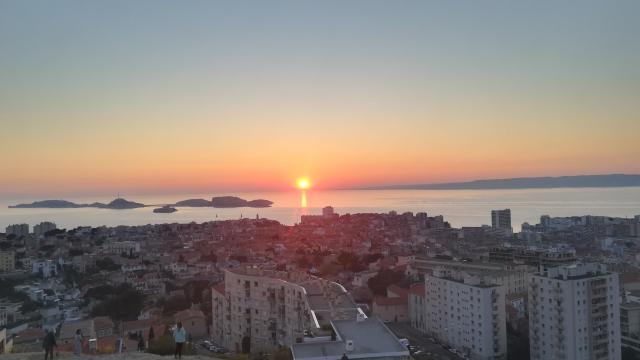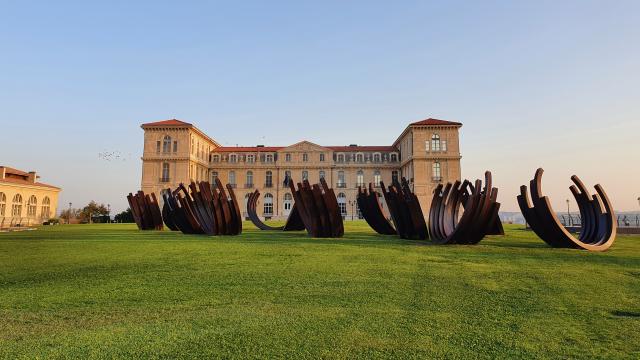 'Palais du Pharo'
A stone's throw from the 'Vieux Port', the garden of the 'Palais du Pharo' offers a  breathtaking view of the Mucem, Fort Saint-Jean, and the 'Vieux Port', of course. Boat masts seem to dance at the last light of the evening and the nightlife gradually takes shape in the distance. For a moment, this walk on the heights will take you away from the hustle and bustle of the city.
Malmousque Cove

Malmousque Cove is located on the Corniche Kennedy. This small fishermen's port has a gorgeous view of the islands of Frioul and Château d'If, and is probably one of the best spots to enjoy a  sunset by the seaside. Think about the aperitif with friends, lovers or family, it is really worth it !