What is Pop in The City
This is a full day event and each team is made up of 2 people. The pair will have to complete 30 challenges during the day. These challenges are divided into 5 categories:  Art, general culture, solidarity, extreme and sport, you will do them in the order you want. Unforgettable experiences that will sometimes give you cold sweats… Or have uncontrollable laughs! Challenges remain secret until the last moment! But to give you a small example, you might step off a building… but shhh! We won't tell you more!
These challenges are spread out in different parts of the city, but don't worry, you will be equipped with a map of Marseille and a road book. The day will begin at 7:45am with a briefing and warm-up. At 9am the top start will be given and at 5pm the end of the race and the closing of the challenges. The goal is to make a maximum of challenges and of course, the most important, to have fun and to discover Marseille in a fun and playful way!
To get around, everything is allowed: hitchhiking, scooters, bikes, public transport! No need to be a fierce sportswoman to participate, just a little common sense and strategy! Come discover or rediscover Marseille, in an original way! Bring your relatives, sister, mother , your best friend, cousin and why not your mother-in-law!
Register for Pop in The City
Careful ! Places are limited and leave in a few hours!  Bibs numbers and kits can be collected the day before, on Friday 30 September from 5pm to 9pm, or on the same day, Octover 1, just before departure between 7:15am and 7:45am.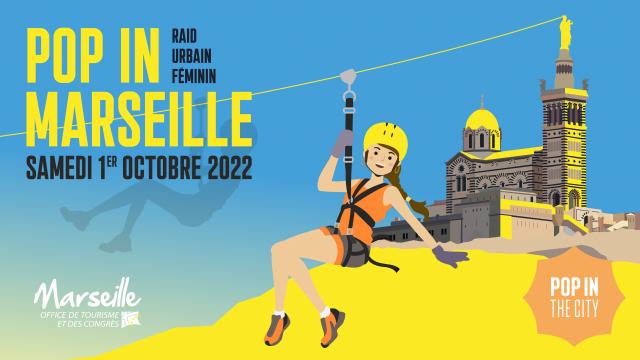 Prepare your visit to Marseille
Coming to  Marseille
All European cities are chosen for their character and identity, but also for their ease of access and their varied accommodation. Train, car, plane, all roads lead to Marseille!
Accomodation
Some of the city's hotels are offering preferential rates for the event, so don't hesitate to contact them. You will find the list of hotels concerned below.